Calvino, Italo
Oct. 15, 1923 - Sept. 19, 1985
Italo Calvino was an Italian journalist and writer of short stories and novels. His best known works include the Our Ancestors trilogy (1952–1959), the Cosmicomics collection of short stories (1965), and the novels Invisible Cities (1972) and If on a winter's night a traveler (1979).
Books
Copies

: 1
Explores imagination and the imaginable through the descriptions of cities by an explorer, Marco Polo. The book is framed as a conversation between the aging and busy emperor Kublai Khan, who constantly has merchants coming to describe the state of his expanding and vast empire, and Polo. The majority of the book consists of brief prose poems describing 55 fictitious cities that are narrated by Polo, many of which can be read as parables or meditations on culture, language, time, memory, death, or the general nature of human experience.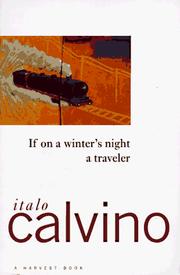 Copies

: 0
The postmodernist narrative, in the form of a frame story, is about the reader trying to read a book called If on a winter's night a traveler. Each chapter is divided into two sections. The first section of each chapter is in second person, and describes the process the reader goes through to attempt to read the next chapter of the book he or she is reading. The second half is the first part of a new book that the reader ("you") finds. The second half is always about something different from the previous ones and the ending is never explained.